On Feb. 13, 1997, about 20 miles off the coast of England, a massive wave hit the freighter Tokio Express, toppling 62 giant containers into the rough north Atlantic seas.
Trapped inside one of them: nearly 5 million Legos. Many floated to the surface. Carried by currents, they're still being found on beaches around the world nearly two decades later. Others remain on the ocean floor. It's not unusual for fishermen trawling the Atlantic to haul up tiny Legos.
The fact that so many of the pieces were nautical themed – sea dragons, pirate swords, sea grass and scuba gear, among others – has turned the Lego spill into one of the most famous and unusual marine debris incidents in recent maritime history.
In Newquay, a seaside town in England, writer and longtime beachcomber Tracey Williams started a Facebook page a few years ago – Legos Lost at Sea – that tracks the whereabouts of the lost Legos as they wash up onto beaches.
Williams recently spoke to the Beach Chair Scientist blog about her work, and you can hear more of what she has to say below. But she hopes to turn the public fascination, much of it generated from a recent BBC story on the spill, into a teaching moment about the harmful environmental impact of marine debris.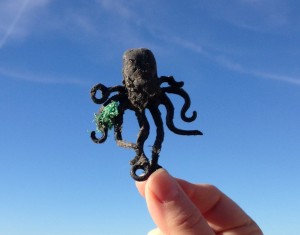 "Clearly, 5 million pieces of Legos spilling into the ocean isn't good for the environment," Williams said in a recent phone interview. After the BBC interviewed her about her site a while back, the publicity resulted in people contacting her with stories about beach-bound Legos around the world.
"It has connected beachcombers all around the world, which is fascinating," Williams said.
She received one report of a Lego flipper found on an Australian beach. She's also heard from the family of a woman who had scoured the beaches for Lego dragons as a hobby in her 80s, passing her finds along t0 younger generations.
"Obviously, marine debris is a big problem. But I think many children have been captivated by this whole Lego story … I think it reminds people of their childhood. It's the whole issue of marine debris. Oceanographers are interested in how far it's spread."
Meanwhile, she also hears from fishermen who come across Lego pieces in their nets.
"Half of it sinks and half of it floats," Williams said, referring to the sorts of Legos that fell off the Tokio Express. "So clearly, while we're finding certain items washed up on our shores like the spear guns and the flippers, fishermen are actually finding other pieces like window frames and car chassis."
While the lost Legos have made for fun beach combing and treasure hunts, there are bigger questions beneath the surface. If the contents of just one toppled shipping container can spread around the world for decades, what about far bigger and more dangerous spills that go unnoticed because they don't happen to have Legos in them?
"There were 62 containers that fell off the Tokio Express back in 1997 and we only know about what  was in three of them," Williams said.
"What's in all of the others and when will that all wash ashore?"
You can listen to more of Williams and the story of the lost Legos here: