It's officially day 4 of the "We affect what goes in our watershed" week (see posts on
marine debris
,
oil
, and
pharmaceuticals
). This time it's all about fertilizers. Researchers whom published in the February 2011 edition of the journal
Environmental Research Letters
pointed out the human
use of phosphorous
, primarily in the industrialized world, is causing the widespread
eutrophication
of fresh surface water. I don't know about you, but I've never noticed that I dump phosphorus down any drains or waterways. But, did you know that phosphorous and other harmful nutrients are in the fertilizers we use to keep lawns fresh and sprightly each spring (right around the corner!)? While these nutrients may nourish our gardens they also cause the fast growth of algae (i.e., algal blooms). The
algae then feed bacteria
, which deplete the waterways of oxygen ensuring that many animals and plants do not survive. Also, the fast growth of the algae will block out essential light needed for photosynthesis. This epidemic of eutrophication can be a
very costly
and damaging to our rivers, streams, lakes, and even ocean. Below is an image from the
National Centers for Coastal Ocean Science
(a division of NOAA) comparing places that have a high (right) and low (left) frequency of eutrophication.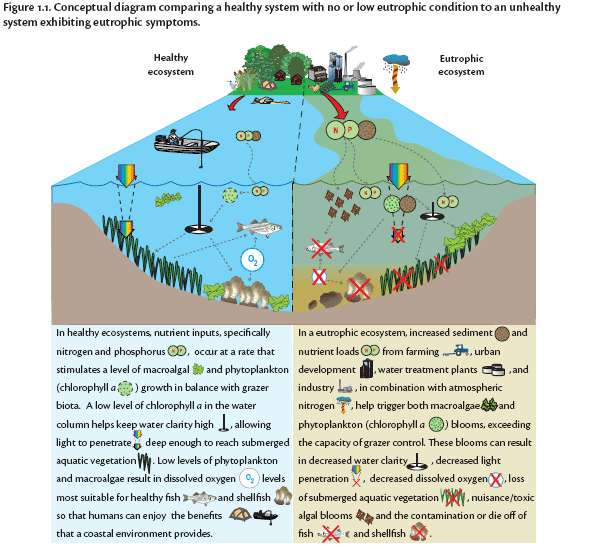 Want a way to ensure you don't add to the eutrophication? I like the
green manure method
from Down to Earth for my garden, but
McGreary Organics
has a good one for lawns as well. I think I'll be depressing just one more day and ask once again, besides fertilizers,
marine debris
,
petroleum
, and
pharmaceuticals
, what are some other ways fish or aquatic life are affected by what we put in our waterways?