With less than two weeks before the big 'gift-o-rama' day, it's time to hunker down and get those gifts in time for wrapping and shipping (after all, shipping ground is a lot less harmful for the environment than air). Here's a list of gift ideas that will inspire anyone on your list to follow your lead to take an active role in loving and learning about the ocean.
1. Beach Amazonite necklace from Peace of Mind on Etsy: It's a piece to be treasured with a sweet little charm that hangs  on an 18″ sterling silver ball chain with a lobster style clasp. Also, $10 from the sale of each necklace will be donated to the Whale and Dolphin Conservation Society.
2. Cutting board from Waypoint (pictured):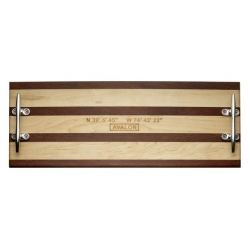 This sturdy piece features the coordinates of 'where you want to be' and is made of solid maple and mahogany. It makes an interesting decoration or is perfect for serving appetizers. The double cleat board features two stainless steel 5" Herrschoff nautical cleats and measures approximately 8″ x 20″. This classic piece was a big hit as a recent gift for my father-in-law who has a cottage in Falmouth, UK. Made in the USA.
3. Driftwood hat or coat rack from nestibles on Etsy: Check out this sturdy, repurposed, shabby chic hook set for your entryway. The wood was collected from Long Island Sound and was sanded with a yellow paint wash.
4. Horseshoe crab pillow from Outer Banks Trading Group: It's a hand sewn 14″ x 24″ pillow printed with environmentally friendly pigment ink on an organic cotton/hemp blend with a knife edge. Made in the USA.
5. Marine rope doormat from Gaiam: This durable doormat, made from reclaimed lobster trap float ropes, is resistant to mildew and indestructible. It's 33" x 20½"  and is available with the options of black/teal and blue/green, although they vary because the availability is based upon the float ropes traded in by the Maine lobstermen.
6. Messenger bag from United By Blue: This bag is perfect for any beach adventure. It's made of 100% organic cotton and United By Blue removes 1 pound of trash from our oceans and waterways around the world for every item sold.
7. Salts of the world from Uncommon Goods: Six varieties of exotic salts for presentation or cooking. It's set in a groovy and stylish rack made of reclaimed cedar. The salts are from around the world but the tubes are made in the USA.
8. Tumblers from Tervis: These sturdy insulated cups keep hot drinks hot and cold drinks cold by harnessing air and sport all sorts of designs from the Maryland blue crab to your alma mater. Made in the USA.
Check out these fun finds for the kids:
1. 10 Little Rubber Ducks by Eric Carle
2. Lionfish puzzle from Fat Brain Toys
3. Sea life bath puzzle from Abe's Market
4. Sea plane from Green Toys
These are just some ideas if you're sitting at your desk shopping. But, why not get out there are check out the gift shop at your local nature center?