I've been blogging for five years and lately what has happened is that I've been fortunate to share my successes and challenges with other people. Fresh off the plane from Science Online Oceans (the most unconventional, inspiring, and interactive conference I've ever attended – loved every minute!), I noticed a reoccurring challenge that other online science writers and myself often face – finding inspiration. So here are 10 techniques for creating posts. Now this list isn't anything monumental, but given that I barely posted this summer I thought writing this list might help me get out of the rut (I know … so selfish!). If you have any other ideas that may be useful, please don't hesitate to comment below.
1. Google Alerts: Knowing the most up to date information will certainly generate some inspiration! Whatever your specialty, make sure to know when it's mentioned in the news, if a video on the subject is released, or when someone else writes a blog post on it. These alerts go straight to your mailbox daily, weekly, or as they are published … depending on how you set it up. Make sure when you put your specialty into the search query that you surround it in quotes. For instance, I want articles of "horseshoe crabs" to come to my inbox, not articles that might mention "horseshoes" and "crabs".
2. Your photo albums: Come on, I know you have extensive catalogs of pictures from fieldwork or on trips with the family. All you have to do is place a picture into PowerPoint or inDesign, put a caption or a favorite quote around it, save as a jpeg and you have a short, sweet, and original post. Below is my husband looking out at a lake on our honeymoon in Maine with a John Muir quote attached which I posted on John Muir's birthday.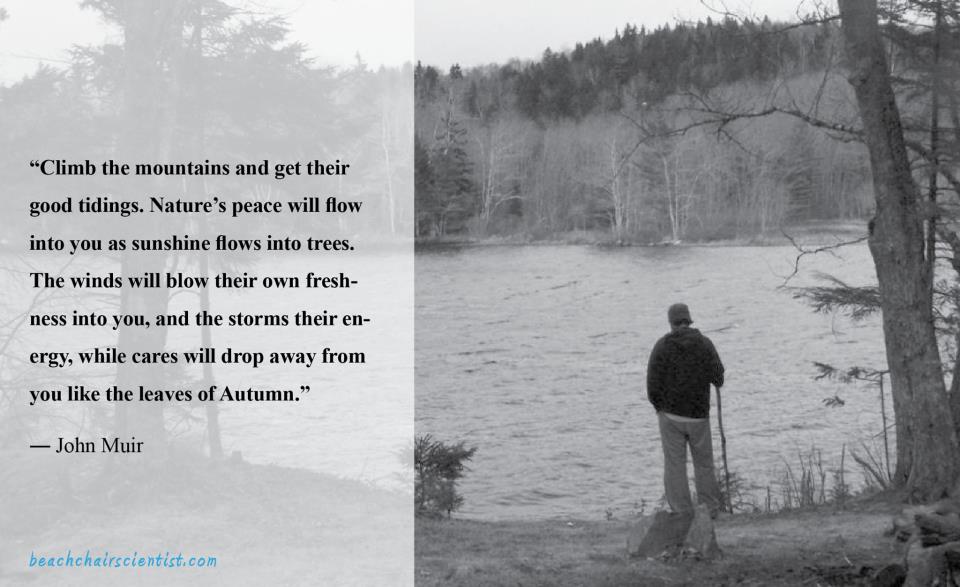 3. Mentors: Sure you have a mentor and you typically focus on what they do NOW as a goal … but, take time to focus on HOW they got to where they are today. Interviews make great posts. Were there any particular people – in or out of science — who helped and encouraged their interest in science at an early age?
4. Citizen science projects: You may be in a rut because you've dissected your methods and discipline to death on your blog. Take time out to participate in a citizen science project or volunteer project that you might enjoy and write about your experience. What do they do that you could incorporate into your own discipline?
5. Other "non-science" related blogs: You might obsess over science blogs to see what others in our cohort are doing these days, but take time out to check out blogs of your other interests as well. For instance, I found the inspiration for the series "What Marine Conservationists Are Into …" from my cousin's fashion blog. You know you're into your cars, music, food … how do they do it and how can you do it better?
6. Google search: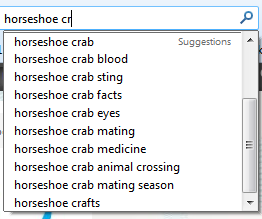 Yes, it's THAT simple sometimes. I've been known to type in a word and see what phrases populate in the Google search bar. I like to think to myself "populate" is linked somehow to "popular" so this is what people are reading about on this particular subject. For instance, when I type in "horseshoe crab" you see what populates. Along those same lines, Google image searches can provide some interesting inspiration as well.
7. Your audience: Looking through the statistics of your blog and reviewing how your audience is referred to your blog can draw some interesting inspiration. From those clicks you can see which posts are the most popular and you can share more on that topic.
8. Think ahead: Are there any strange holidays or major milestones in your field that are coming up? Is the anniversary of a significant paper published in your field creeping up? Are there any monumental televisions shows about to end their run? Use these events as a way to craft a post that will certainly be shared due to its timely relevance.
9. Magazine covers: This is the opposite of "Think ahead" and can help make something you may have already posted seem fresh and innovative. Use magazines to find crafty titles and then formulate a post around that title. For instance, "Secrets of …", "6 new ways to …", "5 myths about …", "3 easy plans to …", "How to easily understand …", "Can you imagine life without …?", "Top 8 benefits of …", "5 things you might not know about …", or "5 reasons … is like …" are all fun ways of drawing people in on a subject. Remember, even if you've already shared this information of your blog, repackaging it with new and updated pictures isn't a no-no.
10. You: Even if you have created an "About me" page on your blog take time to share with your audience a little bit more about where you grew up, how you got into your field (this is probably not your first job), the methods behind your science (you know there is never enough room for that in a published paper), a funny story from your fieldwork, or what inspires you. Not all of that needs to be in one post. Make it a short series. It's great practice in building a narrative which can help in translating your science to others in-person.