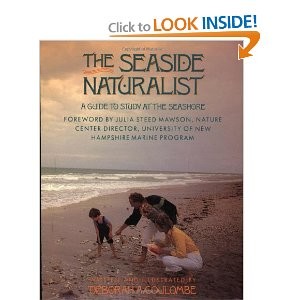 It's time for another "Test your knowledge" quiz. This time it's brought to you by page 211 of one of my favorite books, Seaside Naturalist (written and illustrated by Deborah Coulombe). Here's a true/false quiz all about those marine mammals we all know and love … well, take the quiz and see how well you know them. First 3 people to submit all correct answers below as comments (before I post the correct answers in a week) will get a free DVD of Ocean Frontiers.
1. Whales sweat profusely while diving.
2. The blue whale is the largest animal ever known on Earth.
3. Whales can drown.
4. Whales can be told apart by the way they spout.
5. Whales never sleep.
6. Baby whales are born tail first.
7. When whales breach, they jump completely out of the water.
8. Whales spout by blowing water out of their blowhole.
9. In Japan, dogs eat whales meat.
10. Manatee are the only vegetarian marine mammals.
Know anyone that might want to share a passion a marine science, environmental education, or ocean conservation by writing for Beach Chair Scientist? Guest posting is always welcome!